WE CREATE EMPLOYMENT
OPPORTUNITIES FOR WOMEN
AND CONTRIBUTE TO ETHIOPIA'S
ECONOMIC PROSPERITY.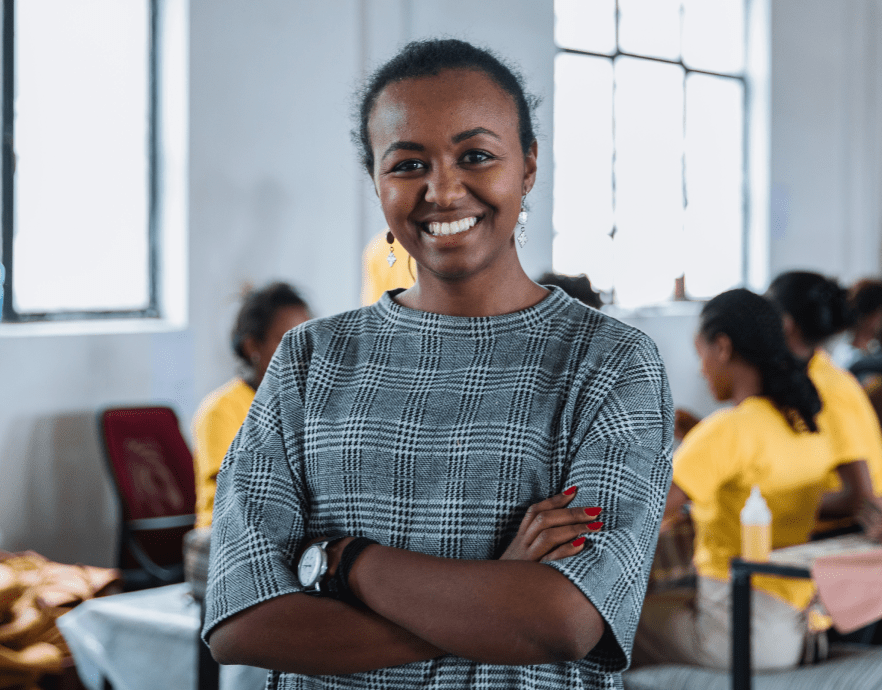 Semhal Guesh is the founder and CEO of Kabana Leather.
The female leader is an architect by training and uses her discipline and knowledge to enhance her designs in the fashion industry.
Her ultimate goal is to be successful in realizing her dream of contributing to the growth of the leather industry; which has immense benefits to the country. These include job creation, significant contribution to the Nation's GDP and effective support of Ethiopia's poverty alleviation plans to become a middle-income country by 2025.
By conquering the big challenges that many female entrepreneurs face in Africa, Semhal succeeded in starting and efficiently operating her enterprise to become one of the leading leather companies in Ethiopia. Additionally, Semhal's passion for transformative leadership has fuelled her drive to empower women economically.
As a young, successful entrepreneur Semhal is a role model for many young women. At the peak of the COVID-19 pandemic, Semhal led a consortium of twelve companies to repurpose factories and manufacture PPE materials. This initiative contributed to the fight against the virus while saving over 1,060 jobs.
Guesh has also participated in a prestigious leadership program on sustainable business management by the Swedish management institute and was selected for president Obama's young African leadership program 2020.
In 2018 she was awarded as young female entrepreneur of the year by UNDP and GEW and served as a board member of the Association of Women in Boldness (AWiB), whose mandate is to connect women with ambition and to realize their ideas and visions.
Kabana Leather was first conceptualized in 2012, when the founder Semhal Guesh was studying at university. She came up with the idea, because she always crafted leather waste to beautiful bracelets in her spare time.
After two or three failed attempts at running other businesses, she decided to venture into leather bags and established Kabana in 2017. Filled with love for design and equipped with the ability to build things as an architect, she started to design bags. However, this was being done as a side business as she was fully employed in an architectural firm. Once she hired her first employee and realized the impact of Kabana leather on their livelihood, Semhal quit her job and dedicated her efforts to growing the company.
In about four years, the company has made tremendous strides, offering customers the opportunity to experience high-quality Ethiopian leather, fashion, and durable products. It started by selling about 14,000 leather items in 2018 and nearly doubled that number the following year. The next big step of the enterprise is to expand its sales on the African continent and European market in 2021.