social and ENVIRONMENTAL
Responsibility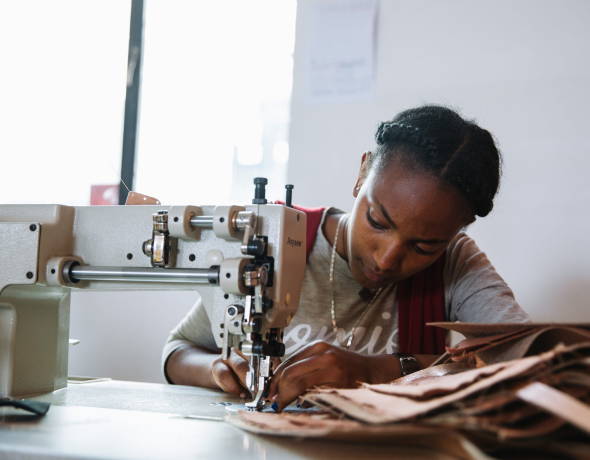 KABANA ENSURES THAT THE RIGHTS OF EACH EMPLOYEE IN THE SUPPLY CHAIN ARE RESPECTED. FURTHERMORE.
Kabana is committed to pay liveable wages to its employees and makes sure, that all partners, involved in the supply chain, follow this policy as well. The company currently pays 4000 birr. That is 4 times the market rate salary, which is 1000 birr, as documented in August 2020.
We provide training opportunities through an MOU (Memorandoum of Understanding) with the governmental TVET College.
In addition, we offer training in soft skills such as confidence, attainment of goals and leadership. This knowledge and encouragement already inspired former employees creating their own businesses and to generate more jobs.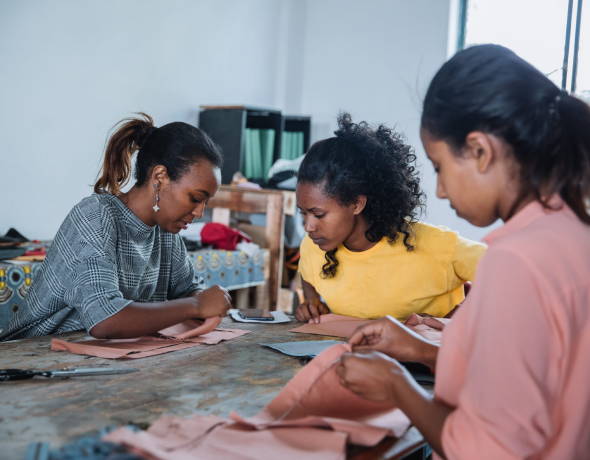 Most families in Ethiopia are male-dominated, and sons are given more chances than daughters.
For such reasons, we are committed to change the gender gap, by empowering women as highlighted below:
We intentionally hire more women, especially those from vulnerable communities such as refugee camps.
We pay liveable wages, to enable young employees supporting their families too.
Put in place important policies, that allow women to reach their full potential, such as: professional development and maternity leave. In addition, we have created a daycare facility for mothers with young children who don't have support at home.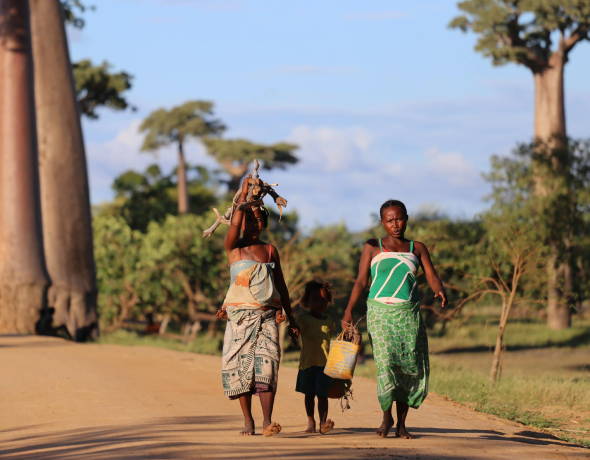 Kabana intentionally hires many employees from emergency shelters and refugee camps to reintegrate them into society and empower them living a life in dignity and self administration.
80% of our staff are women, many of them are single mothers, who escaped from their families due to domestic abuse. The purpose of hiring more women than men, is to empower them and to compensate the big gap created in the male dominated manufacturing industry. Employment is freely chosen. Kabana does not engage in the use of forced labour by prisoners and only hires people older than19 years. We promote a culture of diversity availing equal opportunities, regardless of religion, political affiliation, nationality, social origin, deficiencies or handicaps. Our employees are coming from different parts of the country and represents the diversity in Ethiopia.
INCLUSION OF DISABLED PEOPLE
The company also gives employment opportunities for disabled women, currently a couple are working in the cutting department.
RIGHT TO ASSOCIATE IN LABOR UNIONS AND COLLECTIVE BARGAINING
Kabana respects the employees' right to form and join trade unions and bargain collectively shall be recognized.
Although the unions are not strong in Ethiopia, our employees have created an association and the company fully supports active participation in this association to discuss and address staff challenges. Each member subscribes by paying 25 Birr monthly to the association which is managed by two representatives.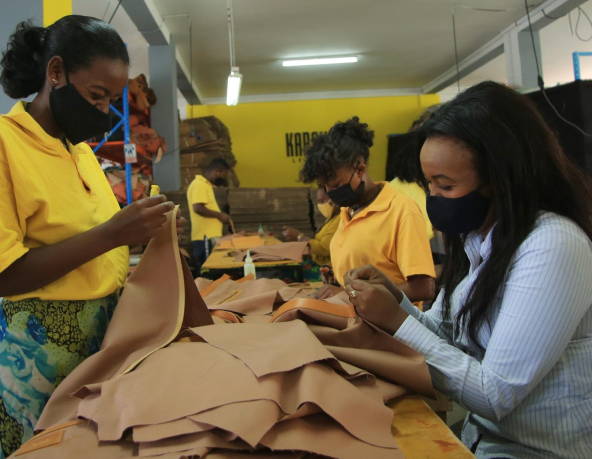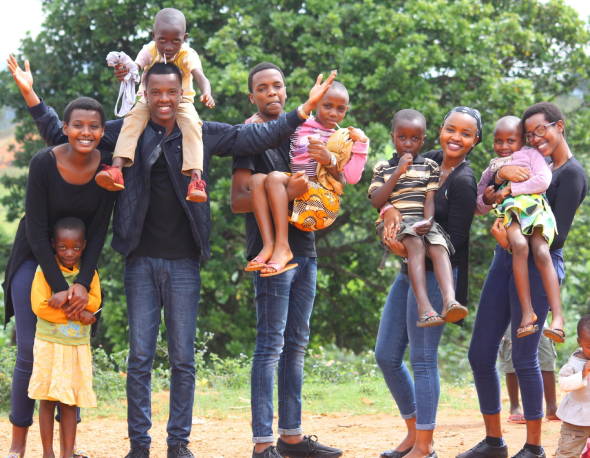 The majority of our staff use money earned to support their families; therefore, we have a direct impact on about 600 people. Additionally, through the leather production chain and supply chain, we have a positive impact on more than 2000 people.
WE CONTINUE TO MEET THE NEEDS OF PEOPLE AND THE PLANET AS WE STRIVE TO MAKE PROFITS. CONTRARY TO POLLUTIVE FAST FASHION PRODUCTS OUR HANDCRAFTS ARE DURABLE AND SUSTAIN A LIFETIME.
ENVIRONMENTAL RESPONSIBILITY
Close to 92% of our raw materials are locally sourced in Ethiopia; these include leather from sheep and goats, textiles, and canvas.
The remaining 8% of raw materials including zippers, buckles and accessory hardware are imported from Egypt, the US and Taiwan.
We choose these manufacturers based on our requirements regarding sustainability, environmental footprint and zero tolerance to child labor practices. The suppliers of leather products keep animals organically, and all remaining products are utilized. The hides are distributed to the tanneries and the local butchers process the meat. For the colors, we use only organic material.
Our high-quality leather is sustainable and has no synthetic finish. Tanning takes place without the use of harmful chemicals and the waste is recycled.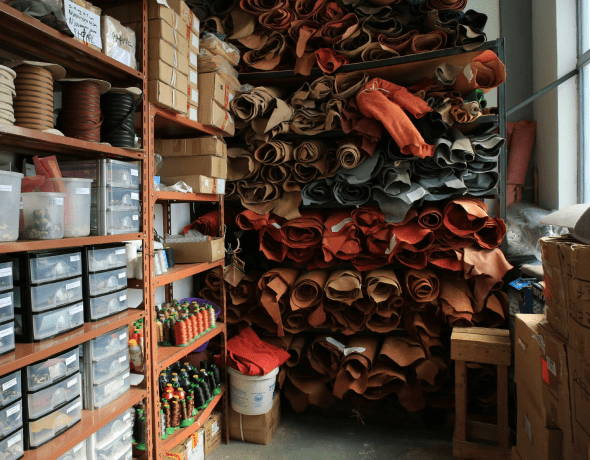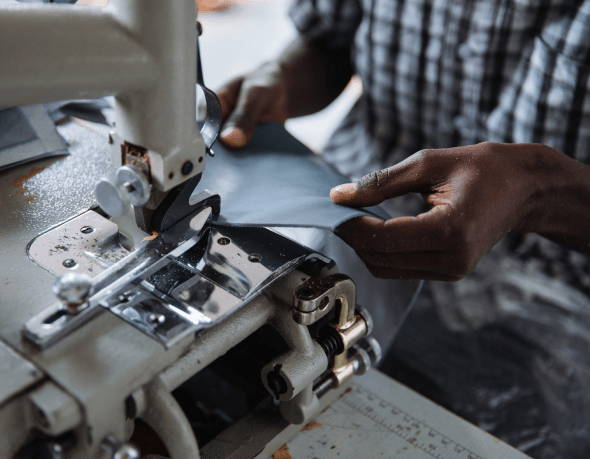 ENVIRONMENTAL RESPONSIBILITY
We have continued to observe reduction in waste since we started upcycling waste products, which has a direct positive impact on the environment.
Previously we had about 40% of from production as waste, we have so far managed to upcycle 15% of this and are working hard to implement strategies that will upcycle the remaining 25%.
The energy sustainability is measured by the KW we use per month in co-relation to previous months used. Kabana uses hydro water energy produced by the country electricity grid and does not use water in the production, but for the parts where water is needed, we use rainwater for plants in facility and low water usage for other washing related activities.
ENVIRONMENTAL RESPONSIBILITY
In addition to these actions, Kabana provides workshops about waste reduction and sustainable consumption, and takes part in the Regreening-Ethiopia project of prime minister Abiy Ahmed, which plants trees all over Ethiopia.